Famous People Opt For Wicker Coffins & Caskets
https://naturesneeds.com/famous-people-opt-for-wicker-coffins-and-caskets/
famous-people-opt-for-wicker-coffins-and-caskets
Wicker coffins and caskets are now increasing in popularity and being adopted by the rich and famous. It's not just because wicker coffins and caskets look stylish. Wicker coffins and caskets send a clear message that the deceased cared about the environment and wants to be buried or cremated in a coffin that is in line with their values.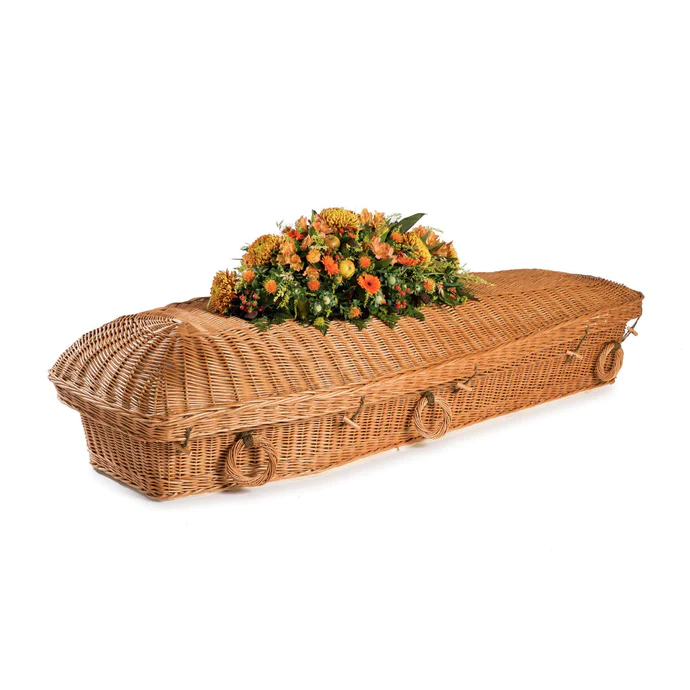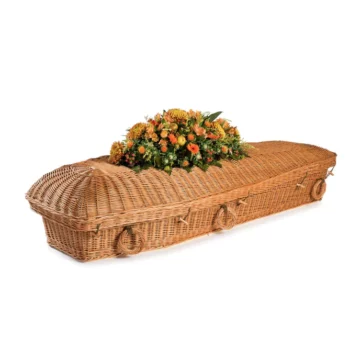 Traditional Funerals
Previously the wealthy elite and celebrities favoured traditional coffins and caskets but this is now being reversed as more people switch to wicker coffins and caskets which are more personal and can be used for both burial and cremation without harming the earth.
A VIP funeral with a wicker coffin
In 2014 King Charles (then Prince of Wales) and his wife Camilla attended a very special and unique funeral.
Deborah the dowager Duchess of Devonshire passed away and was buried in the grounds of Chatsworth house. Normally you would expect someone with a British title to opt for a grand expensive hardwood coffin or casket that would be piled high with flowers in a traditional arrangement. Perhaps something like a handcrafted mahogany coffin (see caskets and coffins here)and flowers in the shape of a cross.
Instead what we saw was a rustic willow coffin decorated lavishly with a large display of white & red flowers splashed liberally with green and beautiful string of ivy around the coffin. The ivy trim is very popular and is very easy to attach to the coffin. 
You can order the same type of willow coffin online here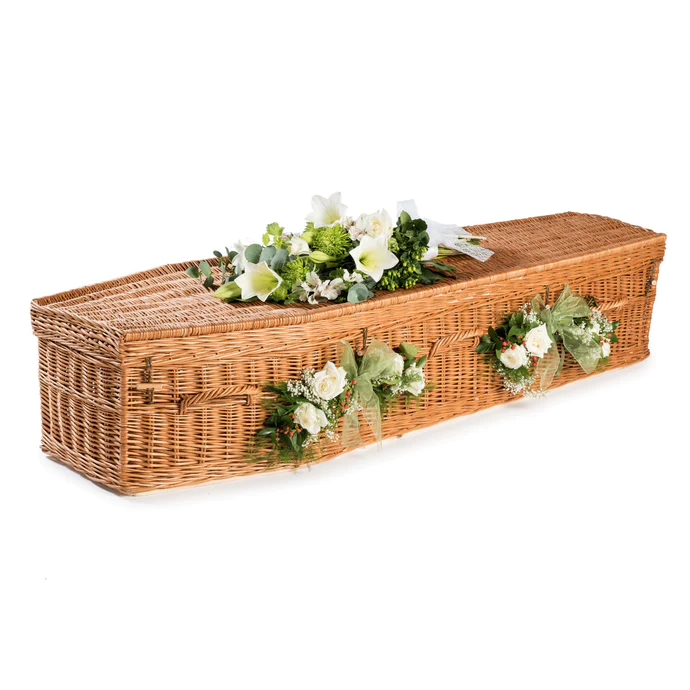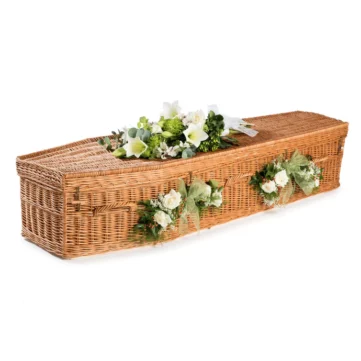 The wicker coffin had been piled high with natural wild flowers – rosehips and strawberry leaves (apparently a heraldic joke which you would have to be titled to understand because all dukes have strawberry leaves on their coronets) and a more personal touch which was a small nest of fresh eggs because the Duchess loved her chickens.
The Duchess loved nature and had devoted a lot of her life to making the grounds of Chatsworth House beautiful. As a nature lover a wicker coffin made from willow from a renewable source would be the perfect choice for burial in the grounds.
Wicker coffins breakdown easily and don't pollute or contaminate the earth with harmful chemicals. This is an important point for all people to consider but very important if you want to think about alternative burial options and be buried in natural burial grounds.
Review: Natural Funerals & Wicker Caskets
Rik Mayall Says Farewell In A Wicker Coffin
Rik Mayall, a famous British comedian, also opted for a wicker coffin for his final farewell in 2014. It was decorated with an Ivy trim and a lavish display of red roses and green foliage. Rik had a traditional church ceremony and  was buried in a church graveyard. 
Wicker Caskets & Coffins For All Funerals
Wicker coffins and caskets are perfect for both traditional and alternative burial options. If you are trying to decide between:
Cremation

Burial in a graveyard

Alternative Burial options such as in a woodland/conservation area/meadow which is the natural funeral option.
You can be sure that a wicker casket or coffin will be suitable. As more and more crematoriums and church graveyards run out of space alternative burial options will become very important. The natural funeral will soon be one of the most preferred options but this will also mean there will be restrictions as to what type of coffin or casket can be used. Wicker coffins and caskets such as Seagrass coffins and caskets or willow coffins will be high on the list. 
Wicker is not the name of the material from which the coffin is made. Wicker describes how the coffin or casket is made and refers to materials being woven together.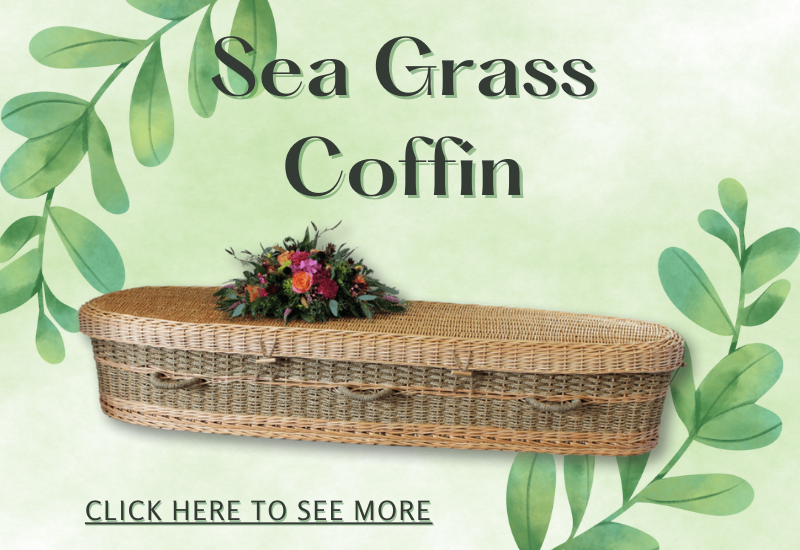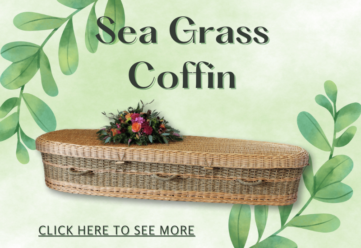 There are many reasons why wicker coffins and caskets are seeing a rise in popularity here are just a few.
Wicker coffins and caskets look good. 

They are affordable.

They are easy to decorate. 

Wicker coffins and caskets are strong. 

They are easy to carry.

They have a low carbon footprint

They are sourced from renewable sustainable sources. 

Wicker caskets, coffins & urns come in a variety of materials you can have;

Seagrass

Bamboo

Willow

Banana leaf

Pineapple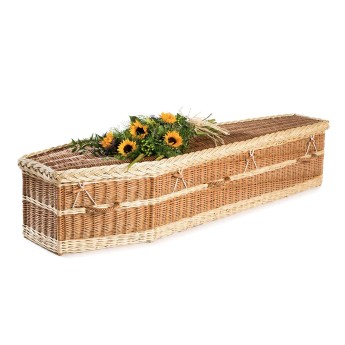 Willow coffins in the UK are made from willow from sustainable sources. As resources become more scarce it is likely you will see more wicker coffins at funerals.  
It's not easy planning a funeral which is why it's a good idea to have that uncomfortable conversation with yourself and your family. When someone dies the grief, anger, stress and sadness that is experienced by those who are left behind can be overwhelming.
This means trying to arrange a celebration of life can be overwhelming. Organising things in advance really helps to reduce stress for everyone. To help get things organised download this free After I'm Gone Checklist which you can use to get you started.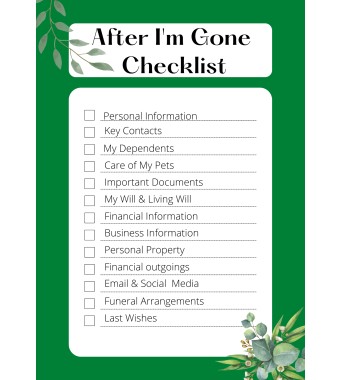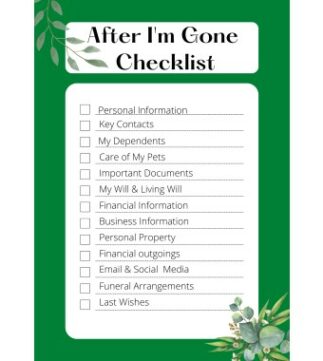 Download the checklist Here
Read more about Wicker Coffins & Caskets