The Rise of Natural funerals
Natural funerals and wicker coffins are a popular choice for those considering alternative burial options. But what are natural burials? What are the benefits? How can wicker coffins be part of them? In this blog post, we will answer all these questions and more!
What Are Natural Funerals?
When it comes to funerals, many people are moving away from expensive traditional funerals and looking at alternative burial options that are kinder to the earth and cost less.
One way to achieve this is a natural burial or natural funeral. This is a type of green burial where minimal environmental impact is desired. Wicker coffins and caskets can be part of natural funerals because they are green.  Environmentally friendly coffins like willow coffins, which are a type of wicker coffin offer several benefits.
Natural burials are simply funerals or interments that take place without the use of harmful chemicals or embalming techniques which poison the earth. This means that the body is returned to the earth in a more natural state, which is not only better for the environment but also for the soul of the deceased according to many cultures.
Natural Burial Grounds
When you choose a natural funeral you are choosing to be buried in beautiful natural spaces instead of a church graveyard or crematorium. You return once again to nature and your grave can be marked by a tree or a small wooden or stone marker.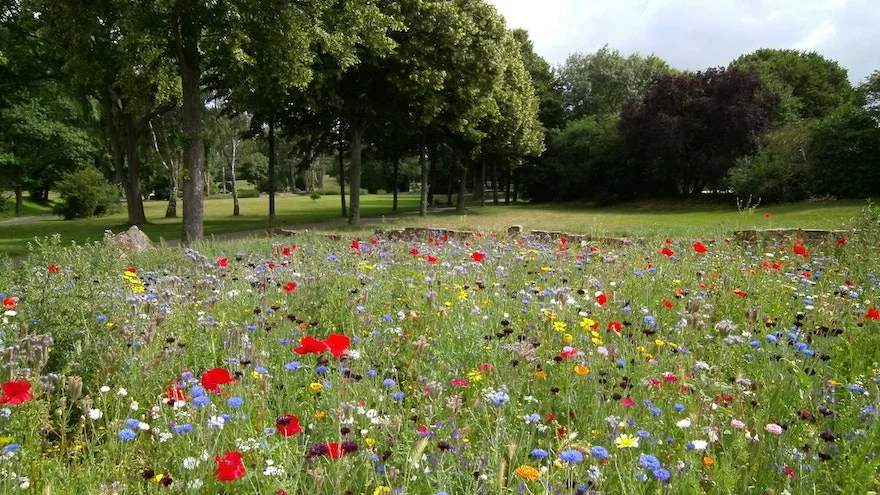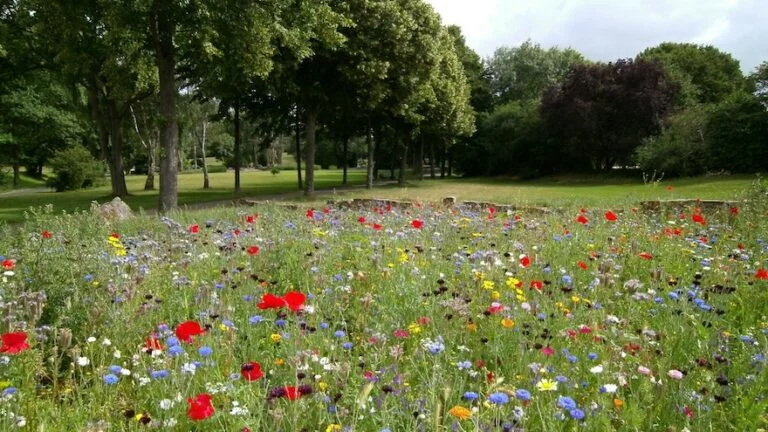 It's all very beautiful, peaceful & natural. Just as nature intended it to be.
The Benefits Of Natural Funerals
There are many benefits of having a natural funeral especially if you love nature or you want to choose a truly beautiful place to rest. Here are a few more benefits:
Natural Funerals Are Green
Natural burials are becoming more popular as people look for ways to reduce their impact on the environment and give back to the earth. In natural funerals, the body is prepared without chemicals and is wrapped in a natural fabric. This allows you the freedom to decide on alternative burial options and to opt for a natural funeral.
Natural Burial grounds are all unique and have different rules and regulations. For example in the UK you might choose to be buried in a meadow but in order to preserve the natural beauty of the land your grave may only be marked with a flat stone marker.
If you choose to be buried in a woodland you could choose to have a tree planted to mark your grave. However, because it's important to be true to nature you will only be permitted to choose a tree that is normally found in that area. For example, you couldn't choose a banana tree if you want a natural funeral in an area where oak and birch trees grow.
Natural Funerals Reduce Your Carbon Footprint
In some places in the world like America cemeteries insist on grave liners. This is a concrete wall that is built around the hole in the ground and is used to help prevent land subsidence, which happens when the coffin naturally decomposes and collapses. 
Grave liners have a very negative impact on the earth which is why in countries like Finland the law prohibits burial vaults and instead insists on natural funerals. When you choose a natural funeral you will have a simple grave with no concrete reinforcement.
Natural funerals work in harmony with nature and not against it. This is why natural funerals are high on the list of alternative burial options.
The coffin or casket is also made of natural materials, such as those used in wicker coffins. You can learn more about wicker coffins in this article.
A Guide to Wicker Coffins & Caskets
Wicker coffins and caskets offer several benefits for the environment and you or your loved one especially willow coffins. Which is why they are a good choice for anyone who is looking at alternative burial options. 
Wicker caskets and coffins allow you the freedom to express your personality or that of your loved ones without damaging the earth. For example if you or your loved one has a strong attachment to the LGBT movement you might want a rainbow coffin. All you need to do is make this clear in your funeral wishes.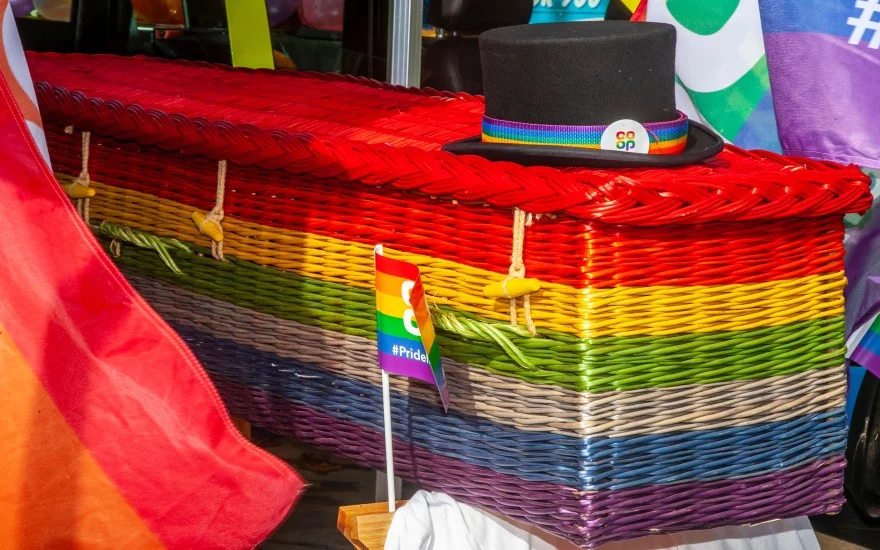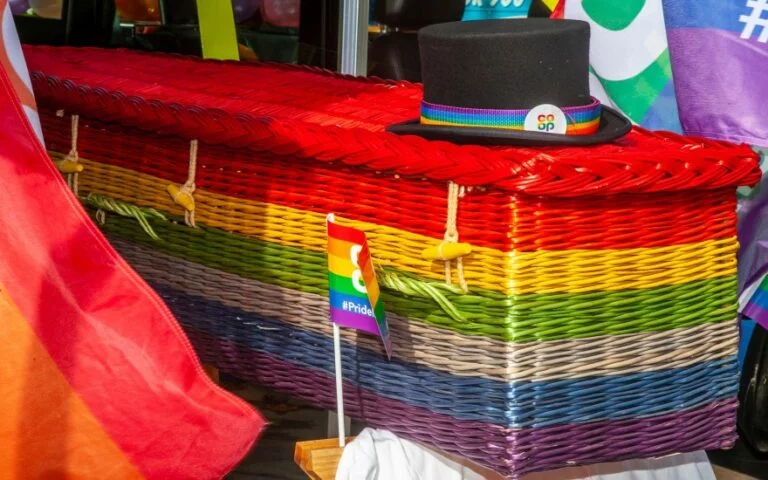 Are Wicker Coffins Better?
Wicker coffins and caskets are made of sustainable materials: Willow, seagrass, pandana, bamboo, rush, reed, banana leaves, pandanus (wild pineapple).
Willow, for example, is a common type of wood used in wicker coffins. It is a fast-growing tree that can be harvested without damaging the environment. Wicker caskets and coffins are also biodegradable, meaning they will break down over time and return to the earth. On average wicker coffins take around 3-4 years to decompose.
In comparison metal or fibreglass coffins have a very negative impact on the earth and take a long, long time to decompose. Whilst cheaper woodchip coffins use a particularly nasty type of glue which releases toxins into the soil. 
Wicker coffins are a popular choice for natural burials as they are eco-friendly and biodegradable. Wicker is a sustainable material that will break down naturally over time, providing nourishment for the earth and helping to support new life.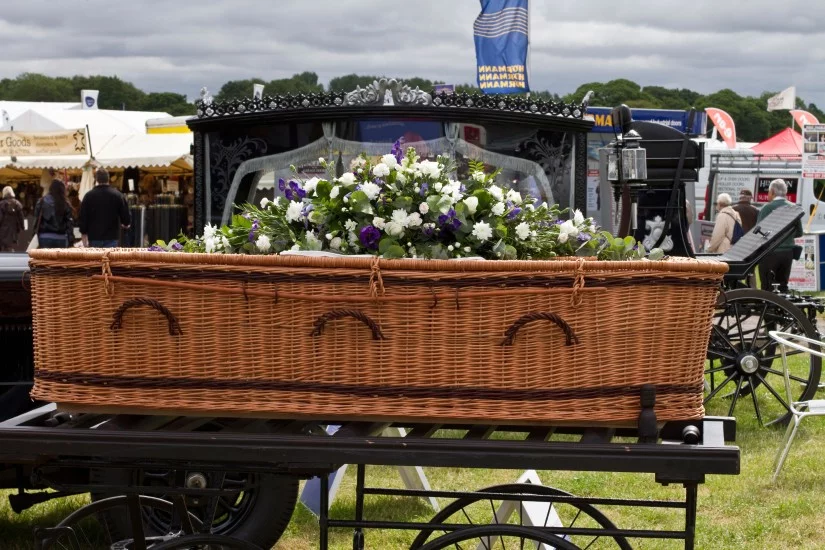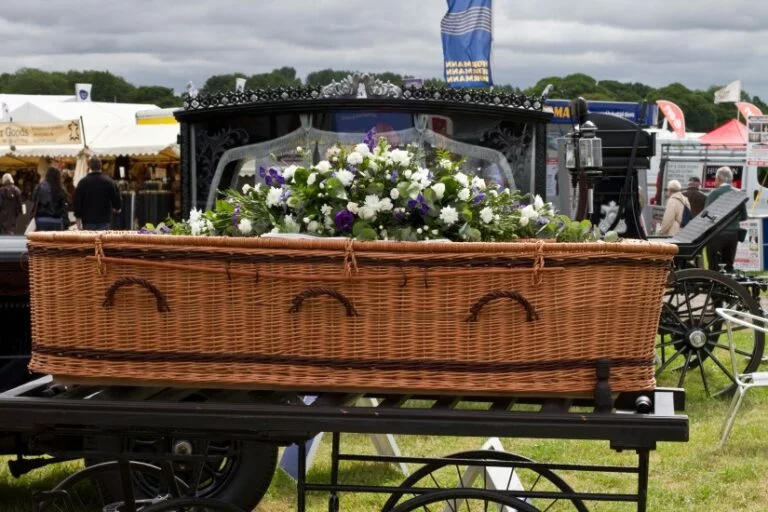 Are Wicker Coffins Strong?
There are many benefits to wicker coffins, in addition to their environmental friendliness. Wicker coffins are strong as well as attractive. For example a standard willow coffin can carry upto 150kg and because they are handcrafted larger coffins can be created and reinforced for extra strength to carry more weight, so you can be sure that your loved one will be well-protected. 
Wicker coffins are also very beautiful, and they can add a unique and personal touch to any funeral or memorial service. 
Natural Burial Costs
Another benefit of natural funerals is that they are often less expensive than traditional funerals. This is because there is no need for expensive embalming or funeral home services and if you are living in America you will save a ton of money as you don't have to spend $1000's on vault liners. 
In the Uk the cost of a traditional burial depends on where you live and whether you are a resident. 
For example in Greenwich London a burial plot is £2000 for residents and £8000 for non-residents. 
In comparison on average Natural funeral sites start at £250 for a cremation urn burial plot and £700 for a coffin burial plot.
A list of regulated Natural burial grounds can be found here.
Make Your Funeral Wishes Clear
If you are considering a natural funeral for yourself or a loved one, wicker coffins are an excellent option but make sure you make your funeral wishes clear. You can do this by including all the details in a funeral wishes letter or by including them in your will. 
Choosing a natural funeral with a wicker coffin casket is a good choice. They are environmentally friendly, beautiful, and provide all the benefits of a traditional coffin without any of the harmful chemicals. 
Did you find this blog post informative? We hope so! If you have any questions about wicker coffins or natural burials, please feel free to contact us. Thanks for reading!
Looking for more information on wicker coffins and natural burials? Check out these other great resources:
Casket vs Coffin: What Is The Difference Between A Casket & Coffin?