How to choose a coffin for your funeral or how to choose a coffin for a loved one is not something that comes up frequently in conversations. We don't get lessons on how to choose the right coffin and you are unlikely to get the chance to change your mind.
You are expected to choose the right coffin first time. This can be very stressful especially if you are not relying on a funeral director as there are many things to consider when choosing a coffin.
It's worth noting that if you buy online some companies do offer a money back guarantee especially on some cardboard or wicker coffins. The cardboard coffin company is one such company. This is good to know especially if you can't decide which coffin is right or if you think you have made a mistake and want to choose different colours or materials.
The Importance Of Choosing A Coffin
Many people agree that these items are important when it comes to choosing a coffin:
Choosing a coffin to reflect the person whose funeral it is.
Choosing a coffin or casket depending on whether you are opting for burial or cremation.
Choosing the right size.
Choosing a coffin or casket that is affordable.

A Coffin To Reflect The Person Whose Funeral It Is
The choice of coffins and caskets should reflect the person whose funeral it is. You want to do the best for your loved one's or if you are preparing for your own funeral you want to choose a coffin or casket that reflects you as a person.
If you are trying to decide which coffin to choose this is a really good starting point and can help you decide which coffin is appropriate.
For example, if you are saying good bye to a loved one who was an environmentalist, someone who would appreciate an alternative burial and not a traditional funeral then you would want to find out what coffins and caskets are available that are suitable for the natural burial or alternative burial option.
Wicker and willow coffins would definitely be included in the range of coffins you could choose.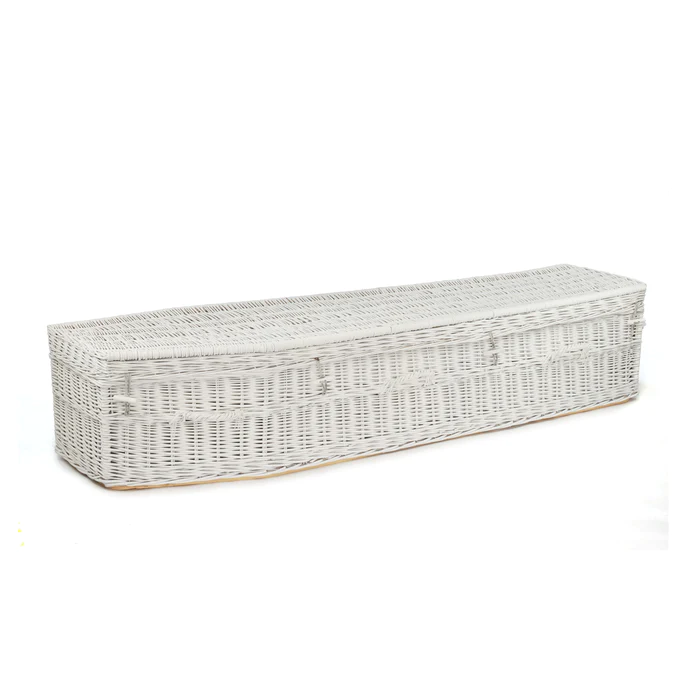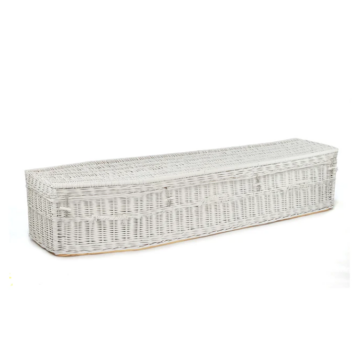 A wicker coffin is made from natural sustainable materials. Wicker is actually a term given to the way in which coffins and caskets are made or to be more precise woven. Wicker coffins include willow coffins, seagrass, bamboo and banana leaf.
For another good biodegradable option, you could also choose cardboard coffins as these are also more environmentally friendly. Cardboard coffins can be printed with personalised designs so they can be reflect the person whose funeral it is.
Environmentally friendly coffins are a relatively new concept so a funeral director will be able to help you source a wicker coffin if they do not supply them.
You don't have to choose a coffin based on the type of funeral service. It doesn't matter whether you are opting for a traditional service or an alternative burial option. However, whether you intend to have a cremation or burial are vital things to consider.
8 Alternative Burial Options For Unique Funerals

Burial Or Cremation?
The material you choose is important when it comes to things to consider. For example, if you or your loved one are opting for cremation then when it comes to choosing a coffin you should avoid metal bronze or copper caskets. In fact in some countries it is against the law to use metal caskets for a cremation. In some countries it is popular to rent a coffin for the service in church or to display the body at a funeral home and then cremate with a cheap coffin or just with a shroud.
The materials used in coffins and caskets are very important things to consider when choosing a coffin. In America people often choose to use a metal casket for show at the funeral service and then select a cardboard coffin or simple wooden coffin for the cremation.
If you are having a traditional funeral for your loved one and also a traditional burial in a cemetery then any type of traditional solid wood coffin is often the first choice of many. The reason people choose this type of coffin might be because this is what they are familiar with.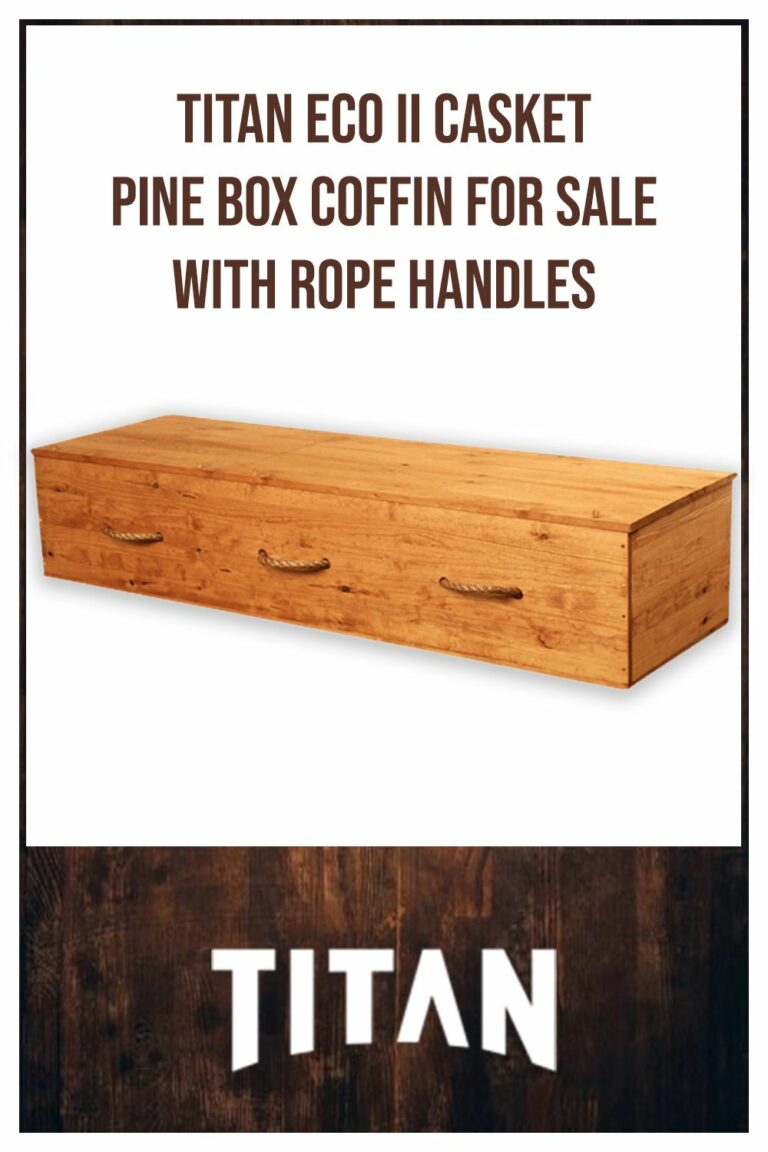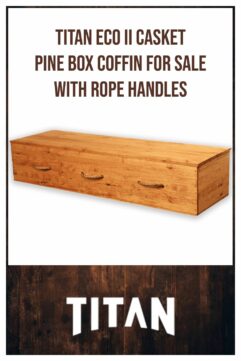 Popular coffins and caskets for traditional burials used to include only:
solid wood
wood veneer
chipboard coffin,
metal including bronze or copper
However, things are changing in the funeral industry and people want to see funerals more of a celebration of their life and as a reflection of who they are. They want the freedom to use a coffin that is more in line with their values and budget. A casket that reflects the person whose funeral it is.
This has led to an increase in the range of coffins available. It also means that when it comes to choosing a coffin things are now a little more complicated.
There is now a lot more concern about the environmental impact of coffins and caskets and traditional funerals and burials. This has led to alternative burial options becoming increasingly popular and as a result an upsurge in more eco-friendly coffins and caskets.
In fact more rich and famous people are turning away from the traditional coffin and selecting an eco-friendly coffin. For example, they are choosing a wicker coffin made from willow or seagrass.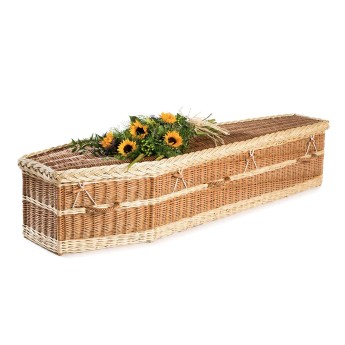 Natural Burial And Alternative Burial Options
When it comes to choosing a coffin you really need to be clear on the requirements of the natural burial ground or alternative burial option. For example, a burial at sea requires a specific type of coffin. Ashes that are to be floated on water and scattered into the sea, lake or river require a biodegradable urn.
Natural Burial grounds have very strict requirements to use a coffin that is an eco-friendly coffin. Natural burial grounds are springing up everywhere especially in the UK as churches and crematoriums run out of space. They are becoming increasingly popular with people who care about the earth and want to leave only a small carbon footprint behind them.
Some natural burial grounds are in conservation areas and it's possible you could even choose to build the coffin yourself as long as it is made from biodegradable materials including wicker, cardboard and wood. Metal or metal effect coffins and caskets would not be the right type of coffin for a natural burial.
You can find a good selection of biodegradable and eco-coffins here
Choose The Right Size Coffin
A coffin is usually a standard size because they are machine made. When you are ready to choose a coffin or casket you will need to know the approximate weight and height of the person to be buried/cremated. Check the dimensions of the coffin before you buy it.
The Size Of Your Loved One Or You Matters!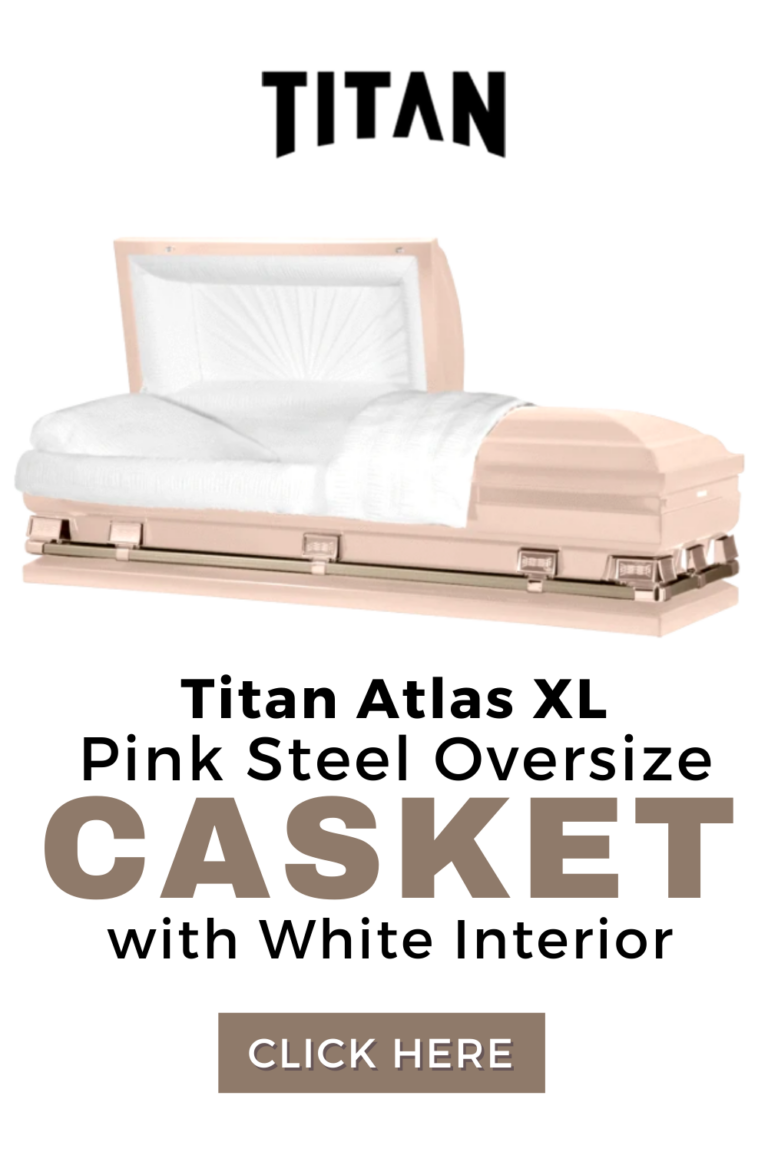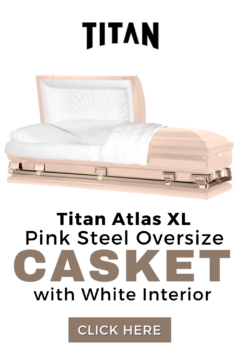 There are some real horror stories of bones being broken to squeeze people into a standard coffin and casket. This is why you should makes sure to order the right size as well as choose a coffin that is acceptable for the cremation or place of burial.
Humans come in all sorts of shapes and sizes and you need the right size of coffin so it is a good fit for you or your loved one's. It may be necessary to have a custom coffin made or you can build your own coffin. Wicker coffins and caskets can be easily custom made because each coffin is woven by hand. They are also incredibly strong and can carry heavier weights
A casket that is custom made is likely to be more expensive.
Difference Between A Coffin And A Casket
Really there is no difference between a coffin and a casket. If you live in the USA people expect you to use the name casket. If you live in Britain people expect you to use the term coffin. Often people say a casket is rectangular and a coffin is six sided but wicker and wooden coffins can also be rounded at the foot like the one below as well as often rectangular.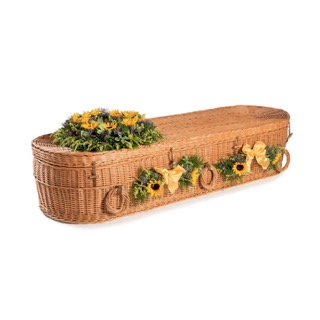 Affordable And Cheap Coffins For Sale
There are different types of coffins and they have different pricing options. Price will also depend on the coffin supplier. If you are arranging a funeral through a local funeral home then the price is likely to be higher than if you buy a coffin or casket online. It's a good idea to search for cheap coffins for sale or cheap coffins online and get an idea of casket prices.
The cheapest coffin you can buy is likely to be a simple undecorated cardboard coffin they start at £240.
When you move to decorated or coloured coffins then you will notice that you can get cheap wicker coffins for around the same price as well as wood veneer and chipboard coffins and caskets. Don't forget often a simple inexpensive coffin is all that you need.

Conclusion
Funerals are meant to be a celebration of life and to reflect the person whose funeral it is.
You don't have to choose a traditional funeral service with a traditional wooden coffin. You are free to choose a different type of coffin and an alternative burial option. Remember to choose the right coffin for the cremation or burial. No metal coffins for cremations and only eco-friendly coffins for the natural burial.
Choosing the right size is important and you may need to custom build a larger coffin or build the coffin yourself. An alternative to this would be to rent a coffin if the option is available.
Finally, shop around to find the cheap coffins for sale and affordable caskets.
Summary
Choose a coffin that reflects the person whose funeral it is.
Choose a coffin that is right for the type of burial or cremation chosen.
Choose the right size coffin.
Choose an affordable coffin that fits your budget