White coffins and caskets are a popular choice for traditional funeral services and alternative burial options. White coffins can be made of various materials, including wood, metal, fibreglass, plastic, wicker including white willow and white cardboard coffins.
White coffins come in various shapes and sizes to suit the needs of different individuals. If you choose a white cardboard coffin it is very easy to decorate or personalise them to make them unique and to construct a beautiful work of art and a touching memorial. To personalise your coffin further you can add a personal touch such as a photo or plaque.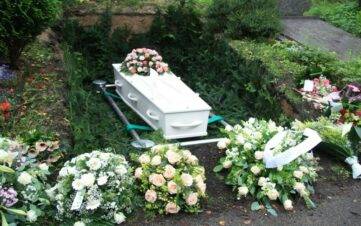 Can You Have A White Coffin?
Yes, you can have a white coffin. White is a popular colour choice for those looking to make a statement and show their personality in their final resting place. Many people want to celebrate their life and their values.
If they were environmentally aware then they also want to choose eco friendly coffins and caskets. They don't want to opt for traditional wood veneer and solid wooden coffins. Eco-friendly people are looking towards high quality, contemporary, natural hand-crafted coffins with a matching environmentally friendly interior.
White coffins can be meaningful and beautifully crafted. The colour also reflects light better than other colours, making it very visually appealing. Additionally, white is often associated with beauty and elegance which can be very comforting for family members saying goodbye to a loved one. If you want to make sure your loved one's final resting place is special and unique, then consider choosing a white coffin.
Popularity of White Coffins
White caskets and coffins are increasing in popularity. This is not only because they look elegant and there is a choice of finish and interior, but also because the funeral industry is changing.
People are becoming more open to using funerals as a celebration of life and not only a traditional religious ceremony. There is now a larger range of white coffins and caskets than ever before. As well as an expanding selection of materials and styles of white coffins and caskets.
Coffins can be made from new materials like sustainably grown white willow, recycled white cardboard coffins, or you can even choose not to have a white coffin and opt for a white biodegradable shroud instead.
In the past it was religion that determined the selection of a white casket. If you were a Roman Catholic then it was traditional to select a white coffin for a child's funeral. The priest also opted for white clothes – a white cassock instead of a black or purple cassock used for adults- to distinguish the ceremony.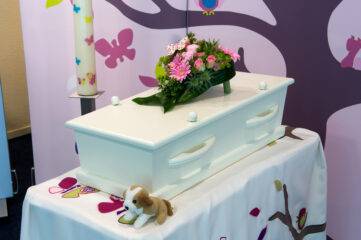 Spiritual Meaning of White Coffins
The colour white has a strong spiritual association. In ancient spiritual traditions, white symbolises purity and innocence. It is linked to the divine and associated with light and knowledge. In the christian world many thing of the white wings of angels and others of God's white beard. Some say that white represents the soul, while others say it symbolises the heart.
It is clear that a white coffin is a special coffin. This may be why white coffins are often chosen for children.
White Coffins In Dreams
I just wanted to add this interesting snippet about white coffins in dreams. If you dream about a white coffin, this symbol shows that you have already buried all your negative thoughts and bad habits and now you are pure and clean ready to create a new better version of you. This will bring you prestige and prosperity.
Different Types Of White Coffins
When considering what type of white coffin to buy it's important to consider the type of funeral you are planning and more importantly whether you are going to have a cremation or a burial.
White steel caskets are a premium product but they are not suitable for cremation.
If you are planning the natural burial then you need an environmentally friendly White Coffin. White wicker coffins are a very good option. White Cardboard coffins are also a very affordable eco-friendly coffin. Compare both here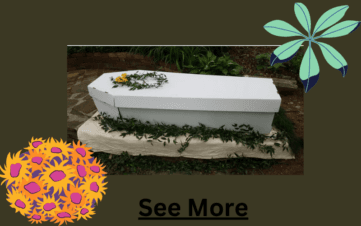 White Cardboard Coffins
Many cardboard coffins and caskets are either made from100% recycled cardboard or 70% recycled cardboard. Their specifications comply with all legal requirements for coffins and caskets.
They are one of the most affordable coffin options and you can easily buy them online.
The Cardboard Coffin company did some research and they found that some funeral directors added up to £170 on top of the price of a white cardboard coffin! This is a good site to check out as you can also see testimonials.
The price of a white cardboard coffin starts at £240. You can see more at Thinkwillow.
Should You Choose Cardboard Coffins For A Funeral
Wicker Coffins made from White Willow
White willow coffins are an environmentally friendly option. They can be purchased online or from a funeral director. If you buy online you are likely to save yourself some money, especially if you shop around or buy direct from companies like ThinkWillow. They have a range of willow coffins and their white willow coffin starts from £799. It also comes with free delivery and liners.
The good thing about white willow coffins is that they are handmade from the highest quality willow trees so not only are they beautifully crafted they can also be custom sized. If you think you would like a custom sized willow casket then contact ThinkWillow they will let you know the price. You will also be able to choose the interior.
White willow coffins are the perfect choice for those seeking a traditional and suitable coffin for their loved one. These oval-shaped coffins are expertly woven with the highest quality white willow, meaning they have been certified to be appropriate for both cremation and burial services. The craftsmanship of these white willow coffins is of the highest standard, ensuring that they last through every step of the process and provide a dignified resting place. The natural colour of these coffins also adds to their beauty and elegance, adding a touch of class to any service. They are truly a fitting tribute to those who have passed away, ensuring that they receive the respect they deserve.
White wooden Coffins
White wooden coffins are not so easy to find. One option is to build your own white coffin. There are many plans available online to help you with this. it would also allow you to personalise the coffin or casket to reflect the life you are celebrating. You could also buy a wooden coffin made from the more affordable chipboard or timber such as pine and paint it white yourself.
If you are using a funeral director they may be able to help or alternatively try looking for white wooden coffins on sites like Ebay, Amazon and Etsy.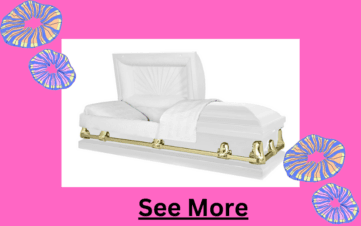 White Steel Caskets
Titan Caskets provide the best steel white caskets for funerals or cremations. Every white casket or coffin is handcrafted and fully customisable with a white crepe or velvet interior. The Orion Panel Collection (White & Gold, Handcrafted Funeral Casket – provides a touching way to honour the departed. These metal funeral caskets are made of 20 gauge quality steel in glossy white finish and come with a rubber gasket seal to guard against water leakage and a locking mechanism for extra security. Plus, free delivery and returns are offered on all orders with Titan
White Coffins Summary
When it comes to choosing a white casket or coffin for a funeral, there are many aspects to consider.
Here's a quick recap.
Things To Consider When Choosing A White Casket Or Coffin
First, you will need to decide on a burial or cremation.
Then decide on the material to used for the casket or coffin.
Remember steel caskets cannot be cremated so you will need to buy a second coffin or rent one if you want a steel coffin for show.
If you want the natural burial you will need to select an environmentally friendly coffin or casket. Next, you will want to look at the interior of the casket or coffin. Some come with soft velvet linings while others come with more basic interiors. Remember if you want a natural burial, linings must also be eco-friendly.
Lastly, you will want to choose a style that is both elegant and high quality.
How To Choose A Coffin or Casket For A Funeral: 4 Things To Consider
There are many different white casket and coffin options available in various styles from traditional to contemporary designs. By carefully considering each of these aspects when selecting your white casket or coffin, you can ensure that it reflects the beauty and dignity of your loved one's final farewell at their funeral service.
For those who wish to have a more spiritual meaning in their funeral service, a white casket is a solid choice especially if you choose natural wicker coffins. Not only do they represent purity and innocence, but they also allow for alternative burial options like cremation or green burials.
Ultimately, selecting the right white casket or coffin will depend on personal preference as well as the budget and desired outcome of the funeral service.