Seagrass and coffins are not a traditional funeral option. But natural
biodegradable Seagrass coffins are now available as a green option that rivals rustic willow coffins.
When it comes to funerals, most people think of traditional caskets made of wood or metal. However, there is a much more environmentally friendly option available – seagrass coffins!
SeaGrass Coffins From Renewable Sources
Seagrass is a natural environmentally friendly product that is from a renewable source. Seagrass is planted in seaside paddy fields which are then flooded. When harvested the plants are dried and then woven into seagrass coffins and caskets. Like willow coffins they are both durable and suitable for the natural funeral. There is also an incredible bonus for the planet. Seagrass actually helps to remove carbon from the atmosphere!
Wicker caskets and coffins have been used for centuries but as christianity grew coffins changed and we moved away from traditional wicker coffins and caskets.
There are a number of coffins that are described as wicker coffins this can be confusing and you might wonder what wicker actually is. Surprisingly, wicker  is not a material. Wicker describes the way in which the coffins are made. The dried seagrass is woven by hand into a round ended coffin. Wicker simply means woven. It is the method of weaving the seagrass which makes it a wicker casket. Because Seagrass is a natural material it is perfect for both burial and cremation.
The Benefits Of Choosing A Seagrass Coffin For Funerals
Stunningly simple in design, easy to decorate, warm and rustic in appearance and unmistakably unique just like you and your loved ones.
Seagrass is a type of grass that grows in saltwater marshes and estuaries this is a renewable resource and so helps to limit environmental damage because no trees have to be chopped down and you are not using toxic materials like fibreglass or materials such as steel which take a long time to break down and rely on a lot of industrial processes.
Seagrass coffins are completely natural and biodegradable, so they are much better for the environment than traditional caskets.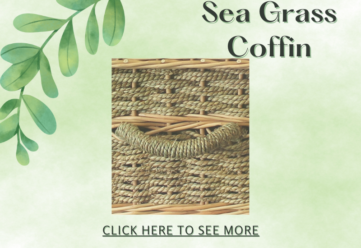 They are also much lighter in weight, which makes them easier to transport. Seagrass is an incredibly strong and durable material, which means it can safely carry larger bodies.
Seagrass coffins have woven handles so they are easy to carry and they come with a simple yet effective toggle to keep the lid closed. There's no crazy, unnecessary extras and mod cons.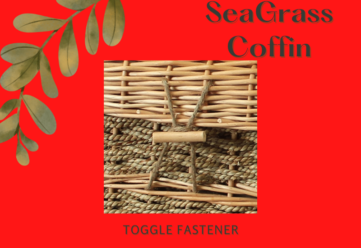 Just like Willow coffins it is possible to have Seagrass wicker caskets made to order. This means no worrying about the size as it's possible to order the perfect seagrass coffin because after all humans do come in different shapes and sizes!
Seagrass coffins are woven by hand so everyone is unique just like you and your loved ones.
Rainbow Coffins For Unique Funerals
There are many benefits to choosing a seagrass coffin for your funeral. Seagrass coffins are definitely worth considering if you are environmentally conscious or have a love of nature. They look lovely because they have a natural warmth to them which also helps to reflect the personality of the person who has died. This is a really important point to consider.
If you are planning a funeral for yourself then think about what you are like. Do you have strong connections to the earth and nature? If so a wicker coffin is going to be more appropriate for your final good bye.
Also if you are looking at alternative burial options like in woodland or in a natural conservation area  you may find that there are very strict regulations about the types of caskets & coffins that can be used. Seagrass coffins are natural and so they are considered a good choice for the natural funeral.
Seagrass coffins can also be more friendly on your purse! In comparison with some of the traditional coffins & caskets, wicker caskets & coffins are much more affordable.
If you are looking for a unique and eco-friendly option for your funeral, consider a seagrass coffin!
Seagrass Coffins In summary
Seagrass coffins can be buried or cremated.
They are a versatile option for any funeral.
Seagrass coffins are simple, practical, durable and strong.
Seagrass coffins are from renewable green sources.
They are unique.
They are more affordable.