Traditional funerals and cremations are expensive.
Modern funeral services are an affordable and alternative way to celebration the end of life and reduce the cost of a funeral in the UK.
Traditional funerals and Cremation costs are high and many people are looking for a low-cost type of service to say farewell to their loved one. A fuss free modern funeral service could provide an alternative celebration of life.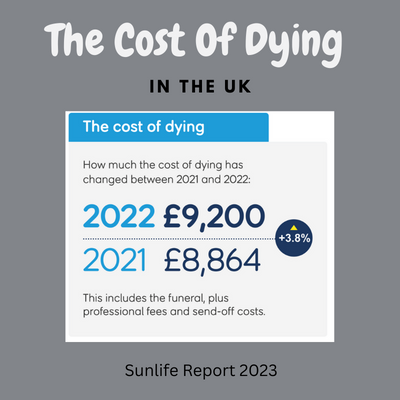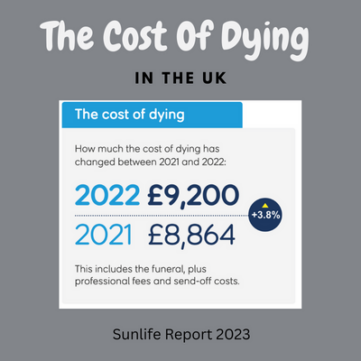 The 2023 Sunlife cost of dying report revealed that on average it costs around £9200 to die in the UK. This is the average cost of a traditional funeral. A very basic funeral cost £3953. That my friends, is a lot of money when you consider these statistics from Money Co
In fact the founder of ThinkWillow.com tells a sobering story of how a family friend didn't have enough money to arrange a simple funeral. So they took out a payday loan. The payment options were ridiculously high which meant they would be paying them back until their own funeral!
So what can you do to make dying more affordable? Is there a way to hold a funeral service that doesn't cost the earth?
Hopefully this article will help you understand more about arranging a funeral and the cost of a funeral.  I'll explain modern funeral services which are the alternative to a traditional funeral which may be a better way to say farewell.
The death of a loved one is an emotional time. What you need is comfort and reassurance so you can provide the dignified care of the deceased before your loved one makes their way to their final resting place.
Traditional Funerals
When we think of a traditional funeral most people think about a wooden coffin, a black hearse and either a religious service of remembrance at a church and then a burial in the churchyard. Or, a cremation service at the crematorium and the ashes of your loved one being returned or buried at the crematorium.
You can choose a non-religious service for services at the crematorium, there is no need to choose a faith based service if your loved one was not a believer.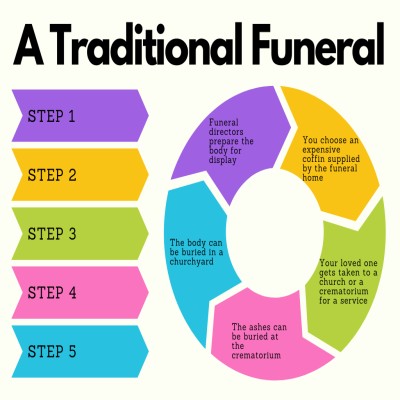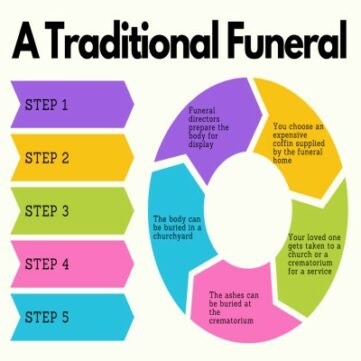 A traditional funeral includes the following steps:
The collection and care of the body by a funeral director. Your loved ones body is taken to a local funeral home.
The funeral home prepare and store the body while arrangements are being made.
Every death will need to be registered. The funeral home will help you complete some simple paperwork. Their professional services will include helping you arrange the funeral by booking a time at the crematorium or for a service at the church.
Traditional funerals normally have a last viewing of your loved one. This means that the body is embalmed and made ready for viewing at the funeral home.
If a funeral plan has been purchased it will be checked to see what funeral costs are covered.
The funeral directors will discuss the arrangements for a cremation or a burial. They maybe able to help with additional services such as paperwork for insurance and burial plans.
Depending on the options available for a traditional funeral a coffin is chosen. Traditionally an expensive solid wood coffin is offered not the best value coffin. If you are opting for a traditional cremation you may also need to purchase an urn.
Before the burial or cremation takes place there is a viewing of the body and a chance to say a final farewell.
The funeral director arranges transport to the church or crematorium.
A traditional funeral service is held at the church or you can hold a non-religious funeral service at the crematorium.
After the funeral service the body is either buried or taken to the crematorium for cremation.
After the cremation the ashes are placed in an urn and either returned to the mourners or buried in the grounds of the crematorium.
A wake is held for people to say farewell to their loved one.
Modern Funeral Services
Todays modern funeral services are simply a breath of fresh air.
They provide mourners the opportunity to truly celebrate the life of their loved one. They give mourners the emotional time, space and freedom to grieve and for them to get the comfort and reassurance they need at this really sad time. But best of all they confirm that there are many other ways to celebrate the end of a life and that you don't need to have a traditional funeral.
Let's take a look at just how flexible modern funeral services can be:
Freedom to choose a cremation or a burial
Freedom to choose  the type of coffin or no coffin at all.
Freedom to choose the venue for the final farewell service or celebration of life remembrance.
Freedom to choose the final resting place.
Modern Funeral Services Reimagined
Many of the customs connected to a traditional funeral service can be re-imagined or completely got rid of. Here are just a few:
The Collection And Care Of A Loved One By A Funeral Home

You can choose to have your loved ones body collected and cared for by the crematorium or prepare your loved ones body at home like they do in Muslim funerals.  In a Muslim funeral it is traditional for the body of your loved one to be washed and then wrapped in 3 white sheets.
In the old days people would take care of their loved ones themselves.They would lovingly wash the body and then place pennies on their eyelids to keep them closed but also to pay the entrance fee to heaven.
The important thing to remember is you don't have to outsource the care of the deceased.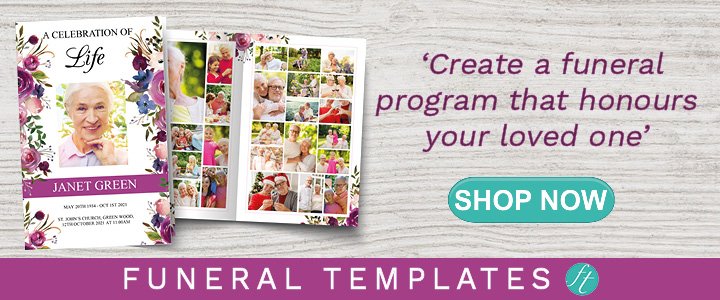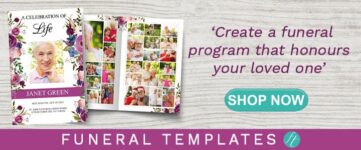 A Solid Wood Coffin?

You don't have to choose a solid wood coffin. In fact you don't have to choose a coffin at all!  You could just have a shroud and a wicker carrier. Alternative options include:

Cardboard coffins
Wicker caskets
Biodegradable coffins made from bamboo, willow, seagrass
A home made coffin
A Traditional Funeral Service?

If your loved one was a spiritual person that didn't associate with any religion then it makes sense to have a celebration of life that reflects their personality and values. This means choosing a venue for the funeral service that is right for them. So if your loved one was a big football supporter there is no reason why you can't have a funeral service at the local football club. You don't have to limit yourself to the traditional list:
1. Church
2. Funeral Home
3. Cemetery Chapel
4. Private Residence
5. Public Park or Garden
6. Beach or other Outdoor Location
7. Crematorium Chapel
8. Memorial Hall or Auditorium
9. Community Center
10. Military Base Chapel
Funeral director Amy from Poppy's talks about how you can literally have a celebration of life ceremony wherever you like as long as the venue agrees!
The Final Resting Place
The traditional funeral focused on a limited number of final resting places. You could be buried in a graveyard or on the crematorium grounds or your ashes could be buried or given back to you in an urn so you could keep them or scatter them.
Todays modern funerals give people the freedom to choose beautiful final resting places. New final resting places are springing up across the UK. They also provide some of the cheapest funeral options. Modern funeral spaces have to be authorised and regulated. Depending on the type of land there may be restrictions on what types of coffin are allowed for the burial and personal items such as jewellery may be restricted to biodegradable items only. If you wish to know more about what is allowed it's best to make a quick phone call.
The good news is most of the modern funeral sites will only allow eco-friendly coffins which makes, willow coffins and wicker caskets and cardboard coffins a perfect solution.
High Funeral Cost
Traditional funerals have always been expensive but new modern funeral services can really reduce the cost of a funeral. Here's how
Choose a low cost cardboard coffin
Create your own funeral flyer and order of service
Choose a direct cremation
Hold a celebration of life in at a free venue such as a park, pub or your home.
Say goodbye in the best way possible – celebrate your loved one's life with a dignified modern funeral service.
Free Resources you may like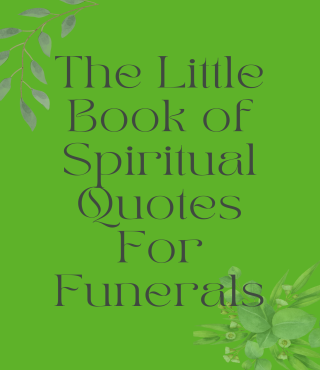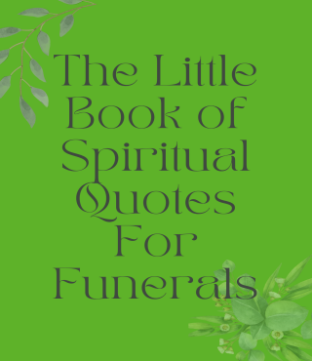 The Little Book Of Spiritual Quotes