Rainbow willow coffins will make any funeral unique. Eco friendly English willow dyed in rainbow colours can be bought online at a price that suits you.
Rainbow coffins and caskets come in a variety of styles and are made with natural materials which makes them suitable for traditional funerals and alternative burials.
If you are curious about wicker coffins you can read more in our guide here
Companies like Thinkwillow and The Cardboard coffin company are able to deliver willow rainbow coffins (fully assembled) direct to your door or to the local funeral director within a few working days or on your chosen delivery date.
If you're based in the USA then Titan Caskets offers a select range of willow coffins for those seeking a more eco-friendly option.
A rainbow wicker coffin is definitely a statement coffin for your loved one or for you. It will definitely transform a funeral into something very unique and special.
Here are 3 different types of Rainbow willow coffins. You can buy them online at ThinkWillow and every coffin order is guaranteed. They also come with a free biodegradable plaque.

Rounded Rainbow coffin
This wicker coffin has a rounded end so it looks very natural and stylish. It is completely different to a traditional coffin and it even has willow handles so everything is bio-degradable.
The English willow is hand dyed and the coffin is hand made from sustainable English willow. The coffin lid is not made from coloured willow but is kept in its natural form. This willow coffin can be custom made using traditional methods so a persons size or height is not a problem. All wicker coffins are weight tested up to 23 stone or 146kg
This willow coffin comes fully assembled and can be delivered to your local funeral director with no additional charge.
This English willow coffin is £999.99 and can be purchased online from Thinkwillow.com
Delivery is very quick and they offer Free Delivery and Free Returns. There is also a payment plan option.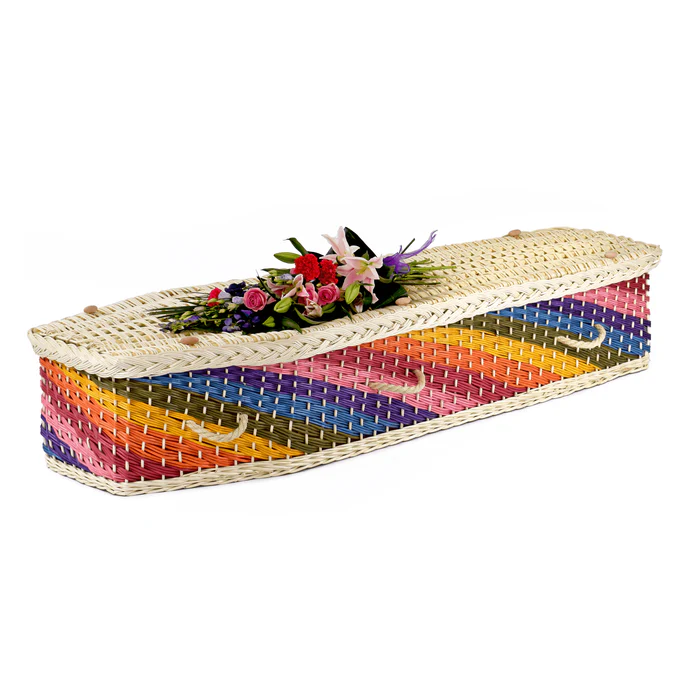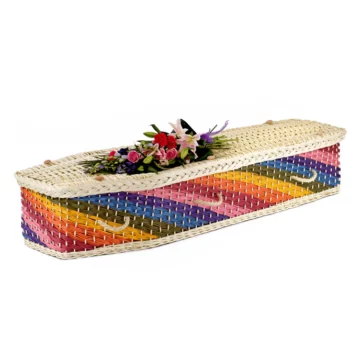 Traditional 6 Sided Rainbow Willow Coffin
This traditional six sided coffin has diagonal stripes that represent a natural rainbow and a fresh light coloured coffin lid. The bright vibrant stripes are full of colour and have been dyed with natural dyes which means this coffin is eco-friendly as it is made with all natural materials. Even the natural calico lining is suitable for natural burials.
Willow rainbow coffins make a loving personal tribute as they not only reflect the personality of the person who has died but they are also a symbol of quality as each coffin is made to the highest standards using highly sustainable and environmentally friendly English willow.
You can buy this Glastenberry coffin online at ThinkWillow  A standard size coffin is available at £849.99

Rounded Rainbow Willow Coffin
At just £799.99 this hand crafted rainbow willow coffin (Woodstock model) is the most affordable of the wicker caskets.  It has vibrant diagonal stripes and a light coloured coffin lid which will provide a nice neutral backdrop for any funeral flower arrangements.
Not only does it ship quickly so it will be with your funeral director in 2 to 3 working days. It also comes with a biodegradable blank name plate which can be  makes it suitable for natural burials and it has two types of natural cotton liner.
Summary
ThinkWillow    : ThinkWillow sells environmentally friendly willow coffin with a free returns policy so if you or your loved one's decide it's not the right option it can be returned.
You will also find an excellent selection of Willow coffins at the Cardboard coffin co. They provide standard cardboard coffins as well as decorated cardboard coffins made from fully sustainable materials that are suitable for burial and cremation.
Rainbow willow coffins have increased in popularity over the recent years. More people are moving away from traditional wooden coffins and burials and instead opt for a celebration of life and an alternative burial option. Rainbow willow coffins will continue to rise in popularity as many people associate them with vibrancy and a life well lived.