It's understandable that we are afraid to ask questions about the cost of a funeral in the UK when so much of the funeral business is shrouded in mystery and treated as a taboo subject. Getting answers to questions like, 
How much does a funeral cost in the UK?

How can I arrange a non religious funeral?

What is the true cost of a burial plot in the UK?

What is a green funeral and is it different from a traditional funeral?

What is a natural burial ground and is it different from a church burial ground?
So many questions and so few transparent answers.
So let's change that. Let's start an open and transparent dialogue about something that we all have to experience.
Let's put cardboard coffins on the agenda and the cost of a funeral in the UK under the microscope. To do that we're going to have to face some uncomfortable truths about the funeral industry, like the unbelievable cost of a burial plot in the UK, for instance. 
When we can talk openly and share important information we can start to make a change for good. When we have honesty and transparency in the funeral industry we can start to reduce the cost of a funeral in the UK.
Everyone should be able to afford a simple funeral. No one's loved ones should be left with a mountain of debt to repay. So let's start sharing our knowledge and talk about the important things.Let's get started by answering a few of those uncomfortable questions. 
We're going to start things off by talking about the cost of a funeral in the UK and then move onto talking about cardboard coffins so you can decide if they are something you would like to consider when planning a funeral.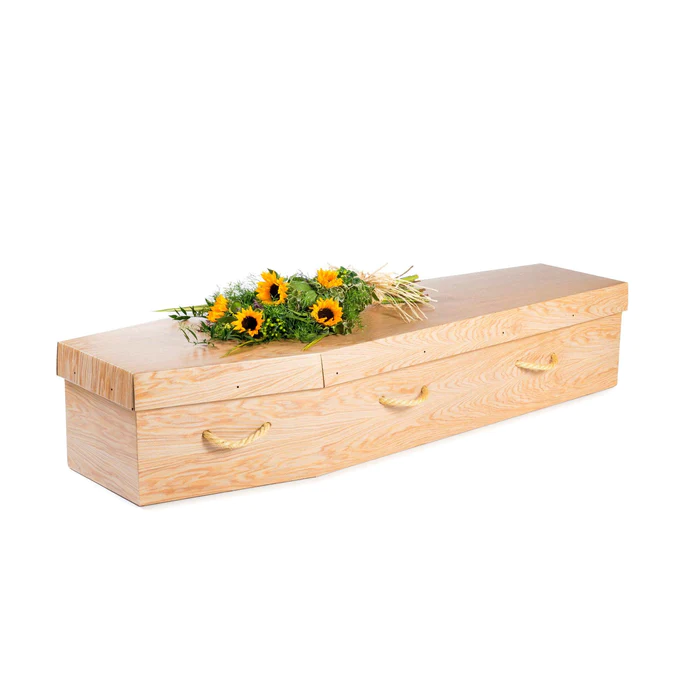 How much does a funeral cost in the UK?
People don't like to talk about the cost of a funeral in the UK. It's a private and unfamiliar topic.Conversations on this subject are sensitive and it can be seen as rude or taboo to ask questions about the cost. It's not normal to go up to someone and say, "hey, how much did you pay for the cardboard coffin?"
Fortunately, we can rely on Sunlife Insurance to provide us with reliable data on funeral costs. Every year Sunlife conducts a survey into the cost of dying. It will come as no surprise to learn that the cost of a funeral in the UK never goes down.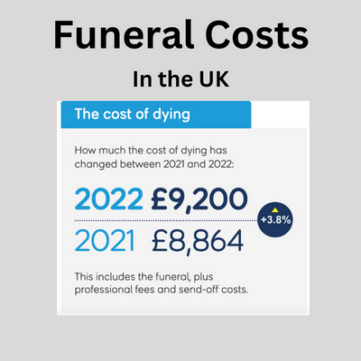 In 2022 the cost of a funeral in the UK rose by 3.9%.  According to Sunlife Brits paid an average of £9200 for a funeral in the UK. This includes: 
This is a large amount of money for the average Brit to fork out! Especially as 34% of Brits have no savings or less than £1000.
With such high funeral costs many people are searching for ways to reduce the cost of a funeral  but still give their loved one a good send off. People want more affordable options when it comes to funerals. 
Every person should have the right to a decent send off, which is why NaturesNeeds is on a mission to provide transparency when it comes to funeral costs in the UK and why we want to help you reduce costs and learn more about different types of funerals.
Traditional Funerals and Modern Funeral Services Compared
The funeral business has been a highly secretive and very lucrative industry for far too long. The government also agrees which is why they have produced new regulations to force funeral directors to be more open and display costs. 
Reducing costs with a cardboard coffin
Cardboard coffins are one of the cheapest coffin options for a funeral in the UK. So let's take a deep dive into cardboard coffins so you can make better choices.
What are cardboard coffins?
In terms of the history of coffins a cardboard coffin is the new kid on the block. Many are made from durable recycled cardboard that is very strong and environmentally friendly.
Thinkwillow has a selection of cardboard coffins that have been rigorously tested to a high standard.
Their cardboard coffins are weight tested up to 23 stone so you can be certain they are as reliable as  a wooden casket. 
Who are they for?
Cardboard coffins are suitable for everyone and any one. The nice thing about cardboard coffins is that they can be custom sized. This is important as humans come in different shapes and sizes. 
There are some horrible stories about bones being broken to fit people into a standard sized coffin. This is not something that should happen. At ThinkWillow we believe everyone is entitled to a respectful and dignified funeral. This should be a necessary ingredient in the cost of a funeral in the UK
What type of funeral can they be used for?
There are surprisingly few laws about funerals in the UK. This means you are free to choose what kind of coffin you want for your funeral or cremation.Cardboard coffins are very versatile and are suitable for both traditional burials and cremations as well as alternative burials in natural burial grounds. 
It's important to know that if you are opting to be buried in a natural burial ground you will have to check their regulations. See more about that here.
Do they come in different colours? 
The good news is cardboard coffins come in a rainbow of colours. 
Whether you want a plain and simple cardboard coffin or an electric blue cardboard coffin there is a colour that's right for you. There are also flags for those who love their country as well as unique picture cardboard coffins. With such a wide variety of choice you can easily create a personalised and unique funeral at a reasonable cost. 
Believe it or not you can even get glitter cardboard coffins, however, although they are nice and sparkly the glitter makes them expensive and also stops them being environmentally friendly.
Cardboard coffins also come in picture format. You can choose cardboard coffins with different themes such as flags, flowers, football clubs etc. Picture cardboard coffins are definitely one way to stand out and create a unique and beautiful funeral.
Remember there are no rules you have to follow about what colour coffin you should have. If your loved one liked pink then buy a pink cardboard coffin if that's in your budget.
Funerals don't have to be like they were in the past. Make it a celebration of life and choose a cardboard coffin that is an expression of that life.
How much do they cost?
Choosing a basic cardboard coffin can significantly reduce the cost of a funeral in the UK as they are one of the most affordable coffins on the market. 
Cardboard coffins come in 4 categories: Economy, Affordable, Coloured, Picture
Economy cardboard coffins are no frills. They are most suitable for cremations. An important point to note is they do not have carrying handles.
Affordable cardboard coffins costs £379.99  and they come in 3 neutral colours.
Economy cardboard coffins are not only affordable but they can also be decorated and personalised.  
This is a very important consideration. Ordering a basic cardboard coffin and then decorating and personalising it can be very therapeutic and help to bring closure. For example, if your loved one has cancer and they know that their time is limited, choosing a plain white coffin and then adding decoration to it as a family can help everyone come to terms with the sad reality of death. This is what many families chose to do. 
Coloured cardboard coffins and photo cardboard coffins cost more money. The most expensive cardboard coffins are the picture cardboard coffins and these can be as much as the cheapest traditional coffins. However, when you buy direct from ThinkWillow you can save money. 
Funeral directors are known to put huge markups on the coffins they supply. It can be a couple of hundred pounds or more. It's worth buying your cardboard coffin online and having ThinkWillow deliver it to the funeral directors or a location of your choice.
When you buy direct from reputable companies like ThinkWillow you can be sure you are getting a quality product at a good price. They offer a money back guarantee, free delivery and are rated on Trustpilot.
You can expect to pay around £499 for a good quality coloured cardboard coffin. 
If you opt for a picture cardboard coffin or a glitter coffin then be prepared to pay from £430 upwards.
In summary
Cardboard coffins are suitable for: 
Traditional burials and cremations 

Natural burials

Cardboard coffins come in many colours

ThinkWillow Cardboard coffins are weight tested and durable

Cardboard coffins have 3 price points
Cardboard coffins can be purchased online from ThinkWillow and delivered to your door or to the funeral directors.
We're scared of leaving our loved ones behind and we're scared to plan for our death just in case we somehow jink ourselves and end our lives prematurely. That's really not the case and it makes more sense to make plans before you die instead of leaving your loved ones with a huge mess to clear up at a time when they are so full of grief it is almost impossible for them to function. 
A little bit of careful planning can go a long way to ensuring no one gets left with a mountain of debt.
We hope you found this information useful. Please reach out to us and share your stories with us. Email: Caryn@naturesneeds.com